Lab Bio Safety Cabinets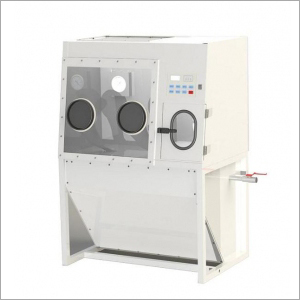 Lab Bio Safety Cabinets Price And Quantity
110000.00 INR/Piece

1 Piece
Lab Bio Safety Cabinets Trade Information
4 Piece Per Month

1 Months
Product Description
Bio Safety Cabinets Class III
Bio Safety Cabinet Class III (Glove Box)
We offer Class III Bio Safety Cabinets are provide total barrier protection for the operator, Product, environment and are suitable for extreme bio-hazard group 4 work. Class III biological safety cabinets are Air-tight and inflow air is HEPA filtered before entering the Class 3 Biological Safety Cabinet via a side mounted inlet filter chamber. Exhaust air is HEPA filtered before leaving the safety cabinet via a single or double HEPA filter, dependant on the customers specific technical requirements. According to the Filter life and Energy saving, we having 3 models are ..
1.
Basic Model 2. Standard Model 3. Superior Model
Total enclosure of the working area
User separated from the work by a physical barrier
Filtered air continuously supplied to the safety cabinet
Exhaust air treated to prevent contamination
Creates total protection for user and materials
Manipulations within the Class 3 Biological Safety Cabinet are carried out via gloves mechanically attached to the cabinet providing a total seal against any particulate contamination released within the main working area. Only Class 3 cabinets which are totally enclosed units are suitable for work with Group 4 hazards.
MOC of Construction:
1.
Fully SS 304 construction with PVC mat 4 finish.
2.
GI Powder coating / Painting Constriction with SS 304 working area and work bench.
Technical Specifications:
Direction of flow
: Vertical
Air Balancing
: 0% recirculation and 100% Fresh air
Inflow Velocity
: 0.53 M/s
Down flow Velocity
: 0.33 M/s
HEPA Filter
: 0.3micron with 99.997% efficiency
Particle retention
: Above 0. 3 micron
Blower Assembly
: 1 / 3 HP, 1440 RPM
Noise level
: 65 decibel + / -5%
Vibration level
: < 2. 5 micron
Fittings:
Microprocessor based Control systems and feather touch switches
RPM regulator / VFD controller
Magnehelic Gauge / Mano meter and Gas Nipple
Velocity sensors and Digital display systems
CFL Lighting and Germicidal (UV) Lamp with Hour meter
Clients:
Medical Testing Lab, Hazardous material handling area, Blood testing labs etc.,
Enter Buying Requirement Details
We Are Mainly Deal In Tamil Nadu, Puducherry & Kerala.